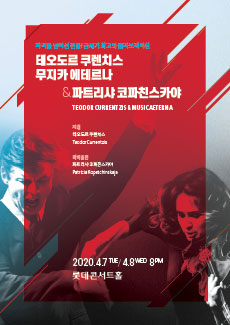 Teodor Currentzis & MusicAeterna
Date

2020-04-07 (Tue) ~ 2020-04-08 (Wed)
*Cancelled*
Time

20:00
Age restriction

Children below the age of 7 shall not be admitted.
Price

R 320,000 KRW
S 240,000 KRW
A 150,000 KRW
B 70,000 KRW
Running Time

110mins
Inquiry

02-599-5743
Ticket open date

2020.01.08 (14:00)

URL Copy

Concert Information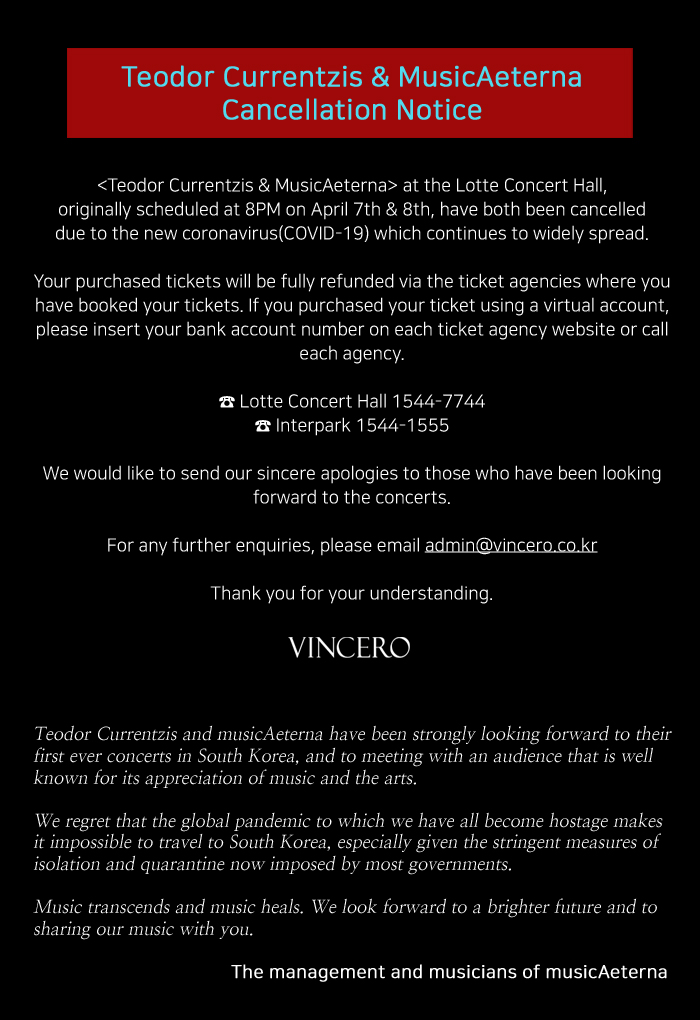 About the Artists
Conductor            |   Teodor Currentzis
Teodor Currentzis is the Founder and Artistic Director of the ensemble musicAeterna and of the musicAeterna Chamber Choir. The ensemble was resident at Perm Opera and Ballet Theatre from 2011 till 2019. In July 2019, Teodor Currentzis stepped down as artistic director of Perm Opera in order to focus on leading musicAeterna to new heights as an independent, privately financed ensemble. 
With musicAeterna, Teodor regularly tours Europe with performances at the Berlin Philharmonic, Philharmonie de Paris, Baden-Baden Festspielhaus, La Scala Milan and the Madrid Auditorio. They have a long standing relationship with the Salzburg Festspiele; performances in Salzburg include a new production of La Clemenza di Tito directed by Peter Sellars in 2017 which transferred to Dutch Opera where Teodor made his debut in 2018, a full Beethoven symphonies cycle in 2018 in five sell out concerts and Idomeneo in 2019 directed by Peter Sellars in collaboration with the Freiburg Baroque and the musicAeterna choir. Teodor and musicAeterna made their BBC Proms debut in 2018 and made their Japanese debut in February 2019 with concerts in Tokyo and Osaka. This season, they will make their New York debut at The Shed with Verdi's Requiem alongside moving images from the late Jonas Mekas.
Teodor has so far been awarded seven Golden Masks - Russia's prestigious theatre award - most recently in 2017 as Best Opera Conductor for La Traviata, a Perm Opera production directed by Robert Wilson. Previous awards include the Best Opera Conductor award (Indian Queen 2015 and Cosi Fan Tutte, Perm 2013 and Wozzeck, Bolshoi 2011), for a "brilliant performance of Prokofiev's score" (Cinderella, 2007) and for "outstanding results in the area of authentic performance" (The Marriage of Figaro, 2008).
Born in Greece, Russia has become Teodor's home since the beginning of the 1990s, when he began studying conducting at the state conservatory of St. Petersburg, under the tutelage of Professor Ilya Musin, whose pupils, among others, were renowned conductors Odyseuss Dimitriadis, Valery Gergiev, and Semyon Bychkov.
Violinist |   Patricia Kopatchinskaja
Combining brilliance and mischief, Kopatchinskaja always brings a sense of humour and theatrics to her music. Whether performing a violin concerto by Tchaikovsky, Ligeti or Schoenberg or presenting an original staged project deconstructing works by Beethoven, Ustwolskaja or Cage, her distinctive approach can always be found.  
Highlights of the 2019/20 season include: European tours with the Budapest Festival Orchestra and Iván Fischer, London Symphony Orchestra and Sir Simon Rattle and a Far-East Tour with Teodor Currentzis. Special highlights include the world premiere of a new commission by Francisco Coll with Philharmonie Luxembourg and a new collaboration with soprano, Anna Prohaska and Camerata Bern. Maria Mater Meretrix includes works by Kurtag, Martin and Holst and amongst others, will tour to Cologne, Frankfurt and Amsterdam.
Kopatchinskaja appears regularly with artists such as: Polina Leschenko with whom she toured recently to Japan and the U.S; Reto Bieri, with whom she premiered a new trio programme at the Wigmore Hall (with Leschenko) which will tour this season and cellist, Jay Campbell whom she will join in January 2020 for recitals in Washington, Boston, Santa Barbara and San Francisco.
In addition to her regular performance schedule, Kopatcinskaja continues to curate interesting and original projects including her most recent, 'Pierrot Lunaire', which was performed with the Berliner Philharmoniker this summer and followed the success of 'Dies Irae' and 'Bye Bye Beethoven'.
Orchestra            |   MusicAeterna
MusicAeterna was founded in 2004 in Novosibirsk by Teodor Currentzis and was the resident orchestra at Perm Opera from 2011 till 2019. In September 2019, musicAeterna embarked on the next phase of its existence as an independent, privately financed ensemble. The orchestra tours widely in Russia and abroad: Moscow, St Petersburg, Yekaterinburg, Novosibirsk, Krasnoyarsk, Vienna, Paris, London, Berlin, Hamburg, Baden-Baden, Munich, Manheim, Dortmund, Amsterdam, Lisbon, Helsinki, Brussels.
MusicAeterna has an exclusive recording contract with Sony Classical. Releases since 2012 include: Mozart's Le nozze di Figaro (released in February 2014, received the German Record Critics' Award 'Preis der deutschen Schallplattenkritik' and the ECHO Klassik "Best record of the year"), Cosi fan tutte (released also in 2014, named Best record of the year by Opernwelt in 2015) and Don Giovanni. The orchestra has also recorded Rameau: The Sound of Light (2014), Stravinsky's Rite of Spring (2015, ECHO Klassik award in 2016 for the Best record of the year: symphonic music XX—XXI»), Les Noces (2016), Tchaikovsky's Violin Concerto in D major, Op. 35 (soloist — Patricia Kopatchinskaja, 2016) and Symphony No. 6 Pathetique', (2017), which was awarded a Diapason d'Or Arte.
MusicAeterna's debut at the Salzburg festival took place in 2017 with Mozart's La Clemenza di Tito, directed by Peter Sellars, and with performances of Mozart's Requiem, Mahler's Symphony No. 1 and Berg's Violin Concerto. Following last year's complete Beethoven cycle, the orchestra will return to the festival in 2020 and 2021. The touring geography of musicAeterna has greatly opened out in 2019. The orchestra had their first visit to Japan where they presented two programmes with Tchaikovsky's pieces. In 2019, musicAeterna is making its US debut with Verdi's Requiem at The Shed, New York.