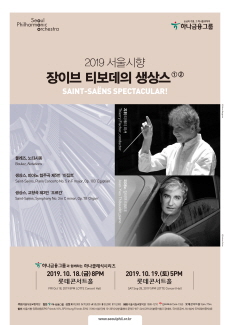 JEAN-YVES THIBAUDET PLAYS SAINT-SAENS
Date

2019.10.18 (Fri)
2019.10.19 (Sat)
Time

Fri 20:00
Sat 17:00
Age restriction

Children below the age of 7 shall not be admitted.
Price

R 90,000 KRW
S 70,000 KRW
A 50,000 KRW
B 30,000 KRW
C 10,000 KRW
Running Time

120 minutes (Interval 20 minutes)
Inquiry

1588-1210
Ticket open date

2018.10.23(Tue) 4pm Package Open (for Vineyard Membership)
2018.10.30(Tue) 2pm Vineyard Membership pre-Ticket Open
2018.10.31(Wed) 11am Public Ticket Open

Concert Information
JEAN-YVES THIBAUDET PLAYS SAINT-SAENS
Fri Oct 18 8pm & Sat Oct 19 | LOTTE Concert Hall
Thierry Fischer, conductor
Jean-Yves Thibaudet, piano
Boulez, Notations
Saint-Saëns, Piano Concerto No. 5 in F major, Op. 103 'Egyptian'
Saint-Saëns, Symphony No. 3 in C minor, Op. 78 'Organ'
The orchestra thunders and roars, a piano takes off like a rocket, everyone pauses for breath – and then with one massive chord, the organ raises the roof. Saint-Saëns' flamboyant Organ Symphony might be one of the world's best-loved classics, but it never gets any less thrilling. And Thierry Fischer has a few more Gallic surprises to share in this colourful all-French concert – like the legendary French pianist Jean-Yves Thibaudet, performing the joyous, brilliantly entertaining piano concerto that Saint-Saëns wrote on a cruise to Egypt (you can even hear the frogs in the Nile). He starts off with the astonishing Notations by the late, great Pierre Boulez: each one a tiny controlled explosion of colour, fantasy and wit.