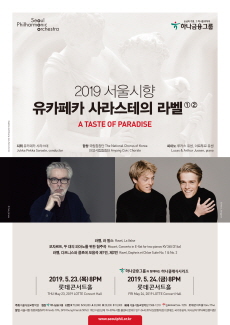 Date

2019.05.23 (Thu)
2019.05.24 (Fri)
Time

20:00
Age restriction

Children below the age of 7 shall not be admitted.
Price

R 70,000 KRW
S 50,000 KRW
A 30,000 KRW
B 20,000 KRW
C 10,000 KRW
Running Time

120 minutes (Interval 20 minutes)
Inquiry

1588-1210
Ticket open date

2018.10.23(Tue) 4pm Package Open (for Vineyard Membership)
2018.10.30(Tue) 2pm Vineyard Membership pre-Ticket Open
2018.10.31(Wed) 11am Public Ticket Open

Concert Information
SARASTE'S RAVEL
Thu May 23 8pm & Fri May 24 8pm | LOTTE Concert Hall
Jukka Pekka Saraste, conductor
Ravel, La Valse
Mozart, Concerto in E-flat for two pianos K.365/316a
Ravel, Daphnis et Chloe Suite No.1 & No.2
Imagine an ancient Greece that never was - a sunlit paradise, where two young people experience adventures beyond the imagination. "I think and feel in sounds" said Maurice Ravel, and in his 1912 ballet Daphnis and Chloé you can almost feel the sun on the back of your neck, hear every flurry of birdsong and see every ray of glittering light. It's the crowning glory of a concert that begins with La Valse, a luxurious, fantastical vision of a world dancing on the edge, and which includes the musical fun-and-games of Mozart's rarely-performed Concerto for Two Pianos – the young Amadeus at his life-affirming best. Guest conductor Jukka-Pekka Saraste brings all his celebrated clarity, insight and flair.