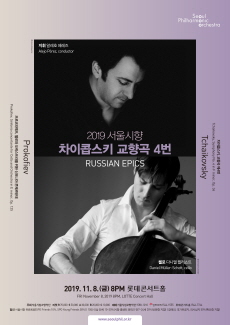 TCHAIKOVSKY'S SYMPHONY NO. 4
Date

2019.11.08 (FRI)
Time

20:00
Age restriction

Children below the age of 7 shall not be admitted.
Price

R 70,000 KRW
S 50,000 KRW
A 30,000 KRW
B 20,000 KRW
C 10,000 KRW
Running Time

120 minutes (Interval 20 minutes)
Inquiry

1588-1210
Ticket open date

2018.10.23(Tue) 4pm Package Open (for Vineyard Membership)
2018.10.30(Tue) 2pm Vineyard Membership pre-Ticket Open
2018.10.31(Wed) 11am Public Ticket Open

Concert Information
TCHAIKOVSKY'S SYMPHONY NO. 4
Fri Nov 8 8pm | LOTTE Concert Hall
Alejo Pérez, conductor
Daniel Muller-Schott, cello
Prokofiev, Sinfonia concertante for Cello and Orchestra in E minor, Op. 125
Tchaikovsky, Symphony No. 4 in F minor, Op. 36
"This is Fate – that invincible force that can never be overcome" said Tchaikovsky when asked to explain the shattering opening of his Fourth Symphony. But over four gripping movements, he does exactly that: battling with his demons in music of raw passion, blazing colour and endless melody. It's one of the most thrilling rides in all symphonic music, and the masterly Alejo Pérez approaches it with all his innate sense of drama. This should be thrilling, especially coming after Prokofiev's powerful Sinfonia Concertante. Part cello concerto, part symphony, it's so difficult and so ambitious that it's very rarely played. But for the German cellist Daniel Müller-Schott it's a mountain so great that it simply has to be climbed.